What determines a just transition to low-carbon futures? In July 2021, the European Commission launched the 'Fit for 55' climate policy package, designed to bring many of the EU policies up to speed to achieve a 55% reduction in net greenhouse gas emissions by 2030. Recognising that these technical mitigation measures may have negative social impacts in some of the most affected regions, current and previous policy announcements have also included economic measures to support a 'just transition' and emphatic pledges to 'leave no one behind'. But, in this transition, how will citizens be heard?
TANDEM (Transdisciplinary ANd Deliberative equity appraisal of transition policies in Energy and Mobility) is a transdisciplinary research project developing methods to engage potentially affected citizens and create just transition pathways to low-carbon futures in five case areas in Europe. In the project, citizens will discuss the impacts of current transition policies and create visions of fairer futures using arts-based methods.
Climate action and green transitions are complex, requiring concurrent activities which can threaten the sensitive balance between environmental and societal aspects. To meet this challenge, policymakers must design and apply transition pathways that combine efficient climate action and justice considerations, especially for the most vulnerable groups. This needs to be done in local, regional, and national contexts.
Tackling different kinds of transition-related tensions
In recent years deliberative democracy methods — through mini-publics, citizen panels, and citizen assemblies — have been applied to formulate climate policies in several European countries, such as Ireland, France and the UK. Emerging research suggests that deliberation is an effective method to explore complex, long-term value issues, such as climate change, that can otherwise be costly for politicians to act on (see, for example, OECD 2020). Yet, climate deliberation has been shortsighted while failing to make citizens emotionally engaged with the issue. Lack of future orientation is problematic for intergenerational justice, as it results in short-term interpretations of just transition favouring adaptation over mitigation. Emotional engagement is critical for motivating systematic climate action.
The aim of the TANDEM project is to design and test a methodology that can be used to create and implement inclusive, forward-looking and just climate transition policies through the involvement of various stakeholders and the co-development of future pathways. Through its citizen-driven and future-oriented process, TANDEM targets different kinds of justice conflicts and tensions associated with transition processes.
Our methodology: Combining deliberation with future visioning
The project will employ a combination of desk, survey and interview methods, participatory system mapping, participatory appraisal, arts-based engagement methods and a future-oriented model of deliberation called deliberative visioning. Introducing art-based methods to deliberative processes makes the pathways to just transition more concrete and emotionable* to participants and enables the development of shared, future motivational narratives.
The addition of future-oriented backcasting helps participants to develop a longer-term perspective when developing sustainable pathways towards ambitious climate action. Deliberative visioning allows citizens to imagine desirable climate futures and contextualise the transition from the perspective of future generations. This method will empower groups that are commonly marginalised to voice their concerns.
Figure 1. Future-oriented backcasting helps participants develop a longer-term perspective, starting from the vision and working backwards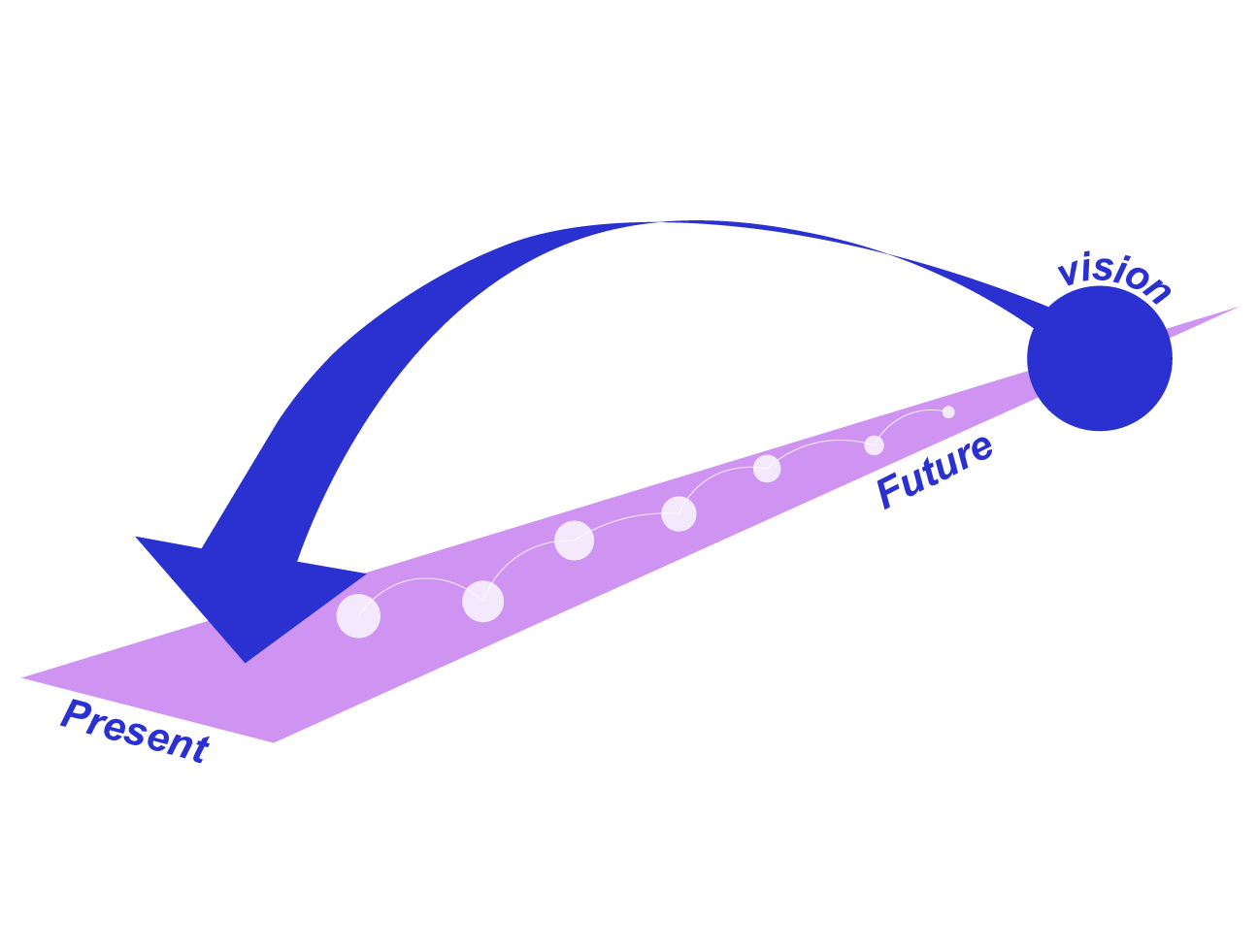 Source: Demos Helsinki (2022), An introduction to Skopegy
The methodology will be tested in five case areas in five European countries. In Finland, the case is about peat producers' futures in Northern areas of the country, especially Ostrobothnia. In Belgium, the focus is on the Brussels ban on diesel and petrol cars. In Poland, phasing out household use of coal in rural areas will be explored. In Spain, the theme is community renewable energy production in Catalonia. In Austria, it is the intersection of housing inequalities and energy renovation processes in Innsbruck.
Next steps and partner research organisations
Among the outputs of the project, there will be a transdisciplinary research toolkit and guide for arts-based methods, as well as a guide to deliberative visioning methodologies. Transition pathways for the five case studies will be developed and complemented with policy recommendations for a just and inclusive transition.
Demos Helsinki will collaborate in TANDEM with Vrije University Brussels, University of Natural Resources and Life Sciences Vienna, Lappeenranta-Lahti University of Technology, Mineral and Energy Economy Research Institute of the Polish Academy of Sciences, Associació Ecoserveis and Euroquality.
For more information on TANDEM, please contact:
Seona Candy
Senior Researcher & Project Coordinator
seona.candy@demoshelsinki.fi
Read more
This project comes as part of Demos Helsinki's impact goal to expand the agency of citizens in the transition towards a viable future. We have a long history of working with partners worldwide to deliver visions of a fair, livable, and joyful planet. You can review some of them here:
* Emotionable means more than relatable. 'Emotionable' has both elements of relatability and empathy. A pathway is more emotionable because participants have also empathised with and considered the perspectives of (and impacts on) other affected groups. In this case, this helps to develop a 'shared' future narrative and motivate systemic climate action.
---
Feature Image: Miikka Pirinen ©2023