New project in collaboration with Open Loop: Can experimental governance help assess the impacts of emerging technologies? Can it build openness, transparency and trust in how technology is developed and impacts societies and people?
We believe that it is time to collectively build openness, transparency and trust in how technology is developed and impacts societies and people. Emerging technologies need governance mechanisms to prevent societal harm and help shape technology and its use that is ethical, equitable and works for the common good. This objective is grounded in the understanding that in addition to society-wide implications, there are already adverse impacts of technology and these effects are often being felt more deeply in marginalized and underrepresented communities. Openness, transparency and trust in technologies require a plurality of actors and voices.
One possible path forward to foster this openness and trust is through experimental governance. Our partner in this project, Open Loop, is a global strategic program initiated and led by Meta. Open Loop connects policymakers and technology companies to develop evidence-based governance frameworks based on policy experimentation. We see the collaboration as an opportunity to bring together societal tensions related to emerging technologies to a forum that is well-positioned to initiate tangible steps in developing governance, policy and regulation towards openness, transparency and trust within the realm of technology. 
Together, we have set out to explore what experimental governance in emerging technologies can look like. Fully aware of the present tensions and challenges, could open and transparent experiments and deliberation create new approaches to the governance of technology?  By learning from past and present experimental policymaking initiatives and methodologies, we will explore under what conditions experiments can foster openness, transparency and trust, all the while bringing in a plurality of voices into the discussion.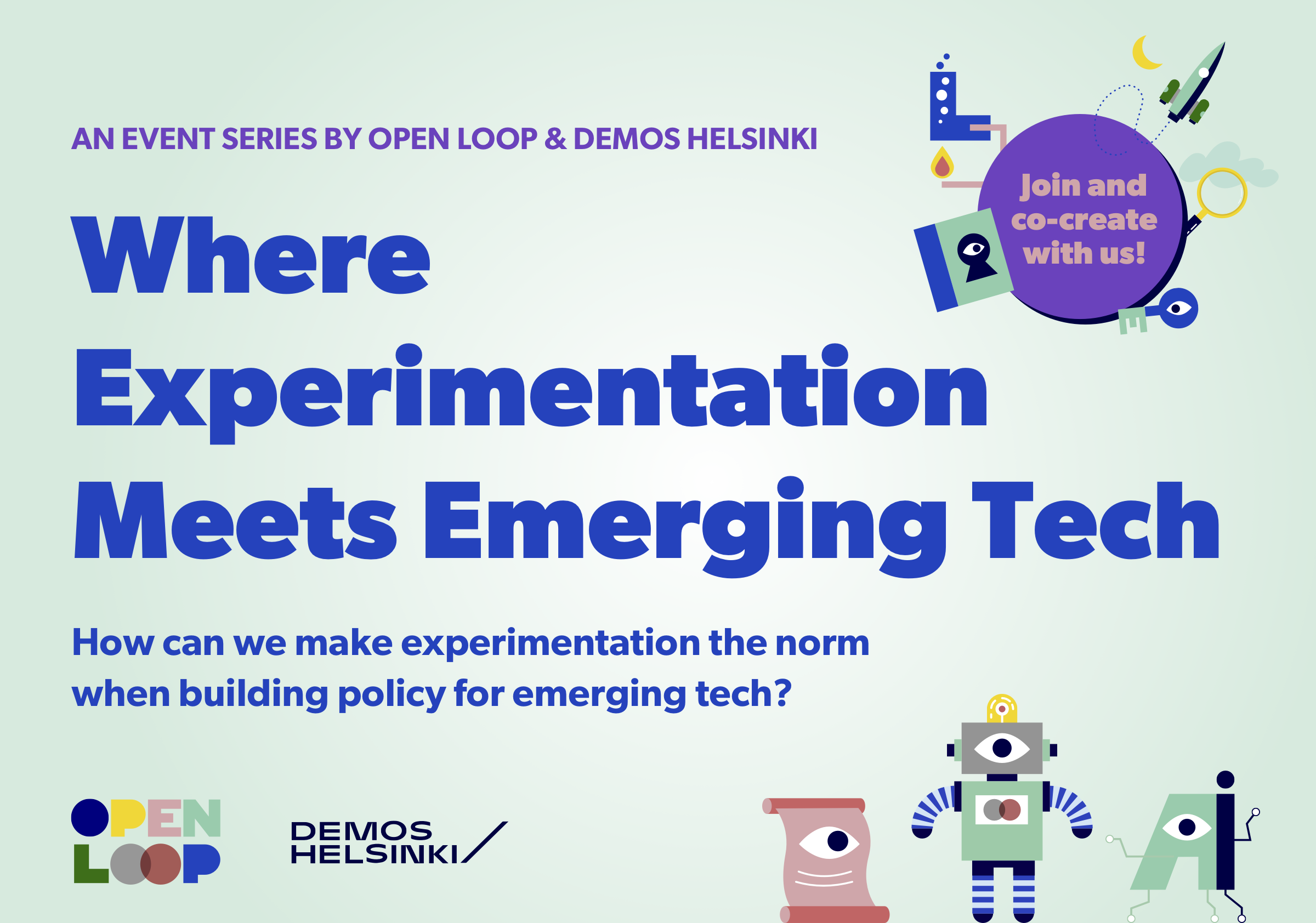 Our project consists of background research, a 3-part event series with accompanying pre-publications, and a final report, summarizing research, cases and dialogue at the events. All will be made openly available and be continuously developed through feedback at the events and interactions outside them.
We hope that this effort will gather and grow a community of civic society, public and private stakeholders, all committed to studying and deliberating on the potential of experimental governance of technology that fosters openness, trust and transparency. We see these as conducive steps towards a society in which technology serves both people and the planet. 
Learn more about the Collaboration on the Open Loop website and come join us in the event series this spring.

---
For more information
Johannes Anttila
Senior Expert
johannes.anttila@demoshelsinki.fi
Feature Image: McDobbie Hu / Unsplash