Published: 6 April 2023
Migration is a complex, multi-dimensional, and fast-changing domain. The traditional way of governing migration has been to build a fortress. While policymakers constantly face the enormous task of uniting short-term needs and long-term possibilities on a national and EU level, we have yet to see a long-term, humane, and sustainable approach to migration governance.
What if we applied foresight methodologies to migration? Demos Helsinki has had a long-standing experience in developing anticipatory governance and policymaking tools. In this case, the goal was to develop a visionary and anticipatory initiative that systematically connects foresight knowledge to migration policy. This report, From Fortress to Foresight: A new way of governing migration, is the result of this effort from our work with the Government of North Macedonia,  the United Nations High Commissioner for Refugees (UNHCR), the International Organisation for Migration (IOM), and the United Nations Population Fund (UNFPA) in North Macedonia.
In the report, addressed mainly to policymakers and practitioners, we present what migration policymaking could look like if infused with anticipation. When governance structures, processes and capacities are anticipatory, they can balance resilience and transformation, providing governments with a long-term and proactive approach.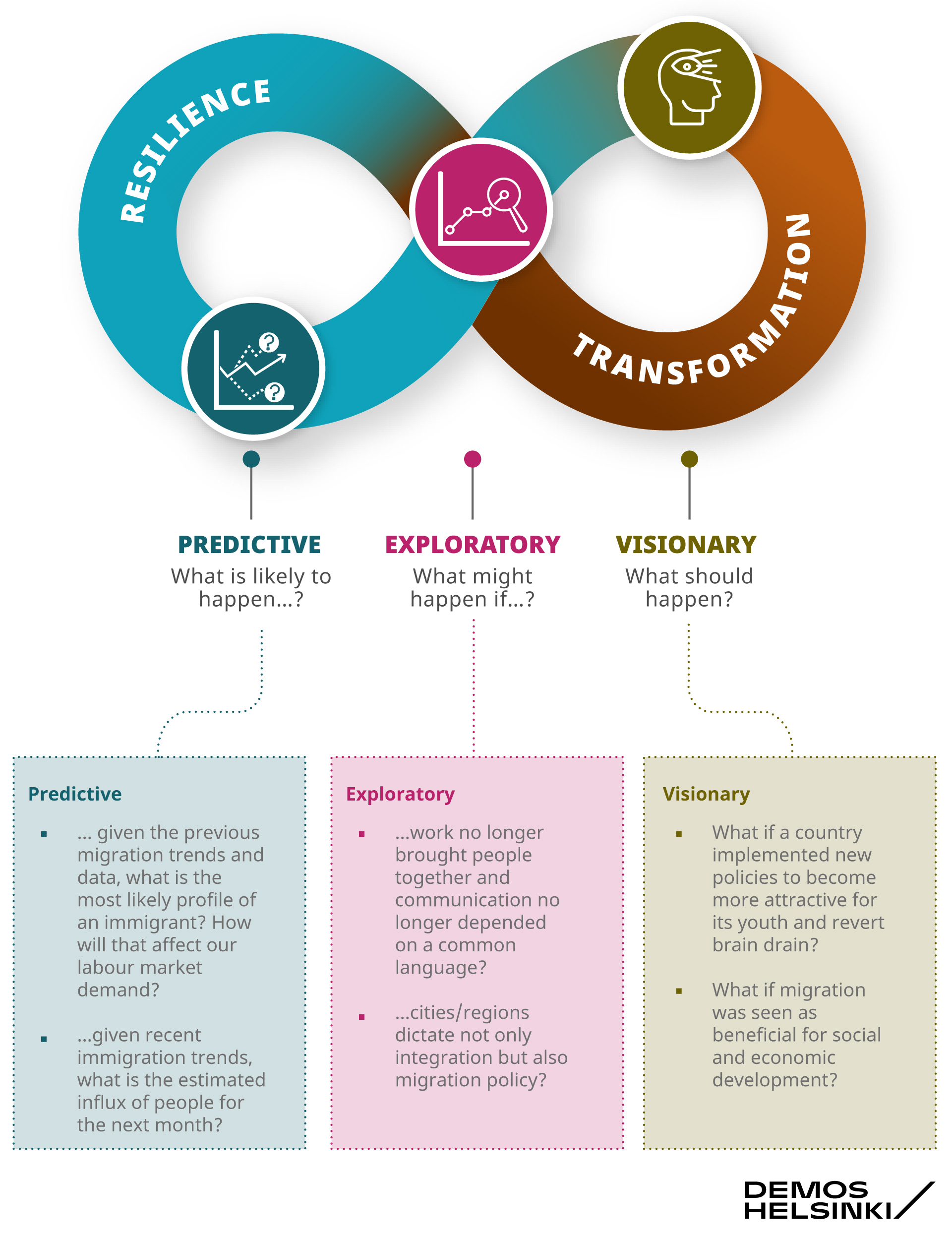 To answer how anticipatory governance can be applied to migration management, the report lays out four steps:
The outline of a conceptual framework for anticipatory policymaking. Our suggested model, presented in chapter three, comprised six core functions that, if combined, balance both resilience and transformation goals. In chapter four, we further explore the model in the context of migration.
A depiction of an anticipatory policymaking model supporting the government of North Macedonia to inject foresight knowledge to different stages in a policy cycle.
An assessment of the current migration governance system in North Macedonia. The goal was to understand the constraints and opportunities to develop ways forward. This work, presented in chapter five, resulted in six governance topics that can be addressed through anticipatory approaches: i) legislative and transparency governance, ii) governance silos, iii) statistical systems and silos, iv) citizen awareness and integration, v) going local, and vi) regional companionship.
Recommendations for experimenting and developing anticipatory governance approaches to migration in North Macedonia. The recommendations, outlined in chapter seven, were based on two main levers for change: 1) to strengthen a long-term and holistic view of migration within the national development efforts, and 2) to build regional cooperation for tackling demographic resilience goals.
The anticipatory approach to governance will be valuable to migration policymakers interested in adopting a more future-oriented and proactive stance. To shape the future of migration, walls are not the long-term answer: anticipatory governance is.
This work is part of Demos Helsinki's mission to empower governments to lead with wisdom in the 21st century. You can read more about our work in North Macedonia here and more about anticipatory governance here.
If you have questions or would like to explore how your government can operationalise anticipation, you can get in touch with:
Mikael Sokero
Senior Expert, Transformative Governance
mikael.sokero@demoshelsinki.fi
---