Published: February 14, 2023
Cities have a key role to play in the climate crisis. We can already see them embracing this role: setting targets, monitoring emissions, forming task forces and innovation platforms, developing action plans and roadmaps, and joining a multitude of networks and projects at the regional, national, and international levels. Despite this, they are struggling to move the needle.
Climate action is gridlocked, and cities are facing pressure from all directions. Generally, governments and relevant stakeholders agree that the climate crisis is an urgent collective crisis. So what is missing? This is about reimagining governance. We need to ask how values, processes, structure, methodologies, and political actors can collectively take the needed actions and what role cities take within that. In Brussels, it was positive to see these questions resonate with the Mayors and representatives of four cities.
It is a positive sign that these questions are resonating with city leaders across Europe. We recently joined the Mayors of two previous European Green Capitals in Brussels to discuss cities' role in the European green transition at an event hosted by the City of Tallinn, the 2023 European Green Capital. We provided a scene-setting presentation to frame the discussion and share our perspective on why a dialogue on climate governance is key to helping cities to navigate and lead the transformative decade ahead.
So how do we think about climate governance?
Drawing from conversations with various cities, levers for change orientate around four interconnected modalities or levels of governance. Each modality introduces key questions for how cities can recognize their agency, redefine their role, and lead the societal transformation that must occur in the next decade.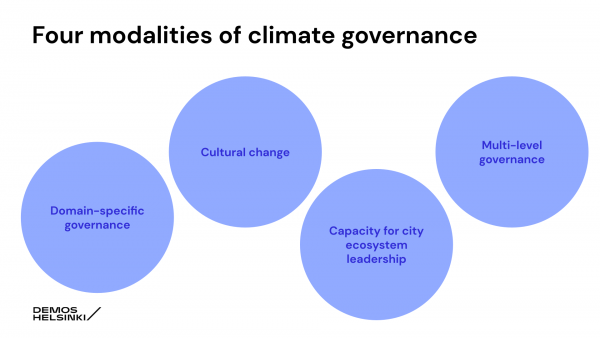 1. Domain-specific governance 
The first modality is domain-specific governance. This refers to the 'hard' governance of systems, processes, and strategies in specific domains (eg investment evaluation criteria used in city planning). This raises key questions for cities around how to systematically embed climate thinking and methods in hard governance and how to institutionalize processes to monitor progress and adjust interventions based on climate thinking. For example, we are currently working with the City of Tallinn, the European Green Capital 2023, to explore how impact assessment and knowledge transfer should work as an iterative process in Sustainability governance.
2. Cultural change
But we must also remember the best-designed process won't unlock a gridlock if people don't know how to implement it or why they should adopt it. The second modality, cultural change, focuses on the 'softer' governance of the culture, mindset, and capacities of the organization and the people within it. From city leadership to practitioners, an experimental Mindset must be developed to embrace the uncertainty of our times. One example of how to break gridlock and drive forward action is the Humble Governance model built by Demos Helsinki, Columbia University, and the Prime Minister's Office of Finland. This was applied successfully to form experiments to solve bottlenecks in timber construction in Helsinki.
These first two modalities concern the most basic elements of governance, but their effect will ultimately be limited without considering how different Actors interact. The climate crisis is a collective crisis, so climate governance is also about collective governance. Cities can't act alone. This was highlighted by all Mayors at the round table.
3. Capacity for city ecosystem leadership
The third modality concerns the capacity for city ecosystem leadership. This refers to how cities interact and incentivize the broader city ecosystem. Put simpler: how do cities steer action within their ecosystem including motivating citizens, business communities, and other Actors to act in a coherent way? A sense of collective agency and accountability must be created.
4. Multi-level governance
Finally, the fourth modality is multi-level governance. For cities, this refers to governing Collaboration between cities in different forms (eg one-on-one, network) and for different purposes (eg knowledge sharing, joint projects) as well as city-national and city-EU governance. Cities struggle to navigate and make the best use of the many city networks and initiatives. It is time to redefine cities' role and establish a model of how they can lead dialogue in national and transnational fora. This fourth modality requires strong focus moving forward as it is the most absent from the current discourse.
Climate governance as a whole
It is important to recognize that cities' impact on the environment is not a new conversation. However, a new dialogue is emerging. Previously, thought was oriented around 'urban planning', but cities are finding the question of governance needs specific focus. With the increasing recognition of the importance of governance, we must consciously choose new terminologies. Wording is important conceptually but also practically. This is why we are using the term 'climate governance'. Conceptually, this can still include the need for a just transition and quality of life while providing a tangible, practical term that gets cities to engage in the conversation.Focus on climate governance is key to leading dialogue to concrete results and avoiding diluting the energy cities have to act now.
The four modalities we have identified are inextricably interconnected. Together, they raise key questions of how cities should govern themselves and the climate. Re-imagination is needed within cities but also beyond them at different levels. We need to systematically institutionalize climate-first thinking and methods into the core of city governance to steer collective action of the whole city Ecosystem and lead dialogue beyond.
We have a clear majority which shares the net zero target, and we have the technology to support this. Now what we need to solve is the governance: to prioritize and rethink methods of decision-making and acting. Cities face great pressure to drive this urgent action, but they can't do it alone.
At Demos Helsinki, we work towards a fair, sustainable, and joyful next era. Climate governance is key to this. We are currently working with cities on these issues, including through the NetZeroCities Consortium, which is part of the EU Mission "100 Climate-Neutral and Smart Cities by 2030".
Want to discuss climate governance and how your city could act now? Get in touch!
Lilybell Evergreen
Expert
lilybell.evergreen@demoshelsinki.fi
---
Feature Image: Josh Power/Unsplash