Where and how could – and should – blockchain be used in public services? How can these uses be commissioned, developed and deployed in a fair and transparent manner? What needs special attention when using DLT in public services?
Since 2020, the EU-funded project TOKEN has been exploring the adoption of Distributed Ledger Technologies (DLTs) as drivers for more transparent, trusted and efficient public services. Demos Helsinki has been leading the Policy Observatory for this research, to mobilise experts across Europe in an effort to share ideas and knowledge.
In this publication, Commissioning, developing and deploying Distributed Ledger Technology-based public services, Demos Helsinki collects and shares learnings from thirty experts who assessed four desirable, undesirable, likely and unlikely scenarios of potential DLT-based public services in the EU.
Learnings and recommendations
Any government that wants to use DLTs for more efficient and effective public services should pay attention to the following considerations:
The use of DLT must be proportionate to the local needs and must deliver necessary value. As such, the involvement of local communities and stakeholder groups in the decision-making process is essential.
The DLT service's impact on users' basic rights and liberties must be positive. The applications should not carry any risks to undermine citizens' rights and freedoms. Moreover, issues of access and accessibility require special attention for a fair distribution of the benefits.
In every part of the process, participation and inclusion for both citizens and civil servants is paramount. Not only does this share the benefits and uses of DLT more broadly, but it also empowers public-private partnerships, take-up and retention.
To assess the impact of DLTs, governments must integrate them with broader policy goals in the public sector.

Experiments and pilot cases with actual users are more likely to lead to high-quality and meaningful services.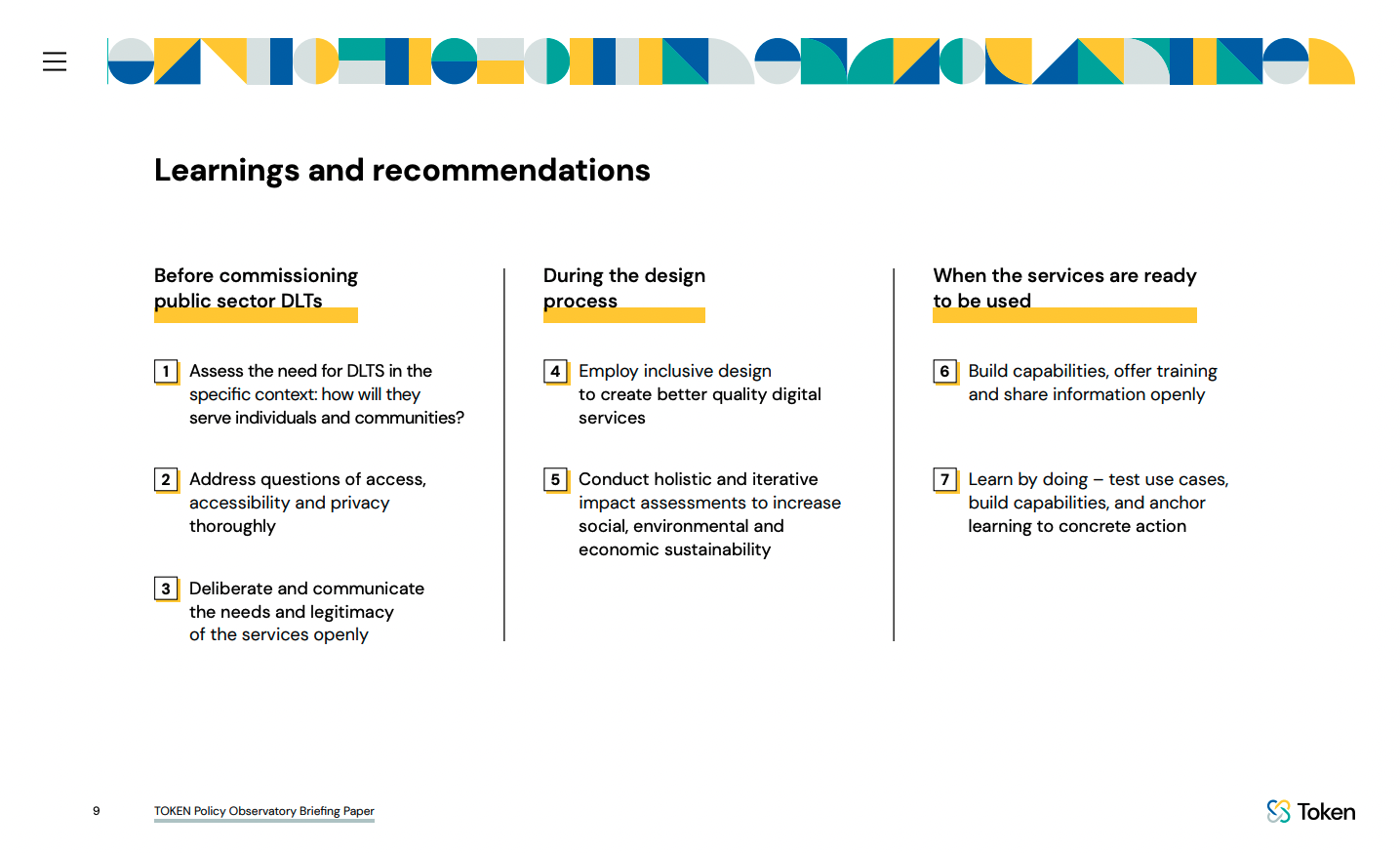 You can read the publication here.
Why DLT-powered public services?
DLTs, of which Blockchain is the most commonly known, can be transformative for our public services. Optimists envision that they can increase trust through shifts in privacy, efficiency and transparency. However, technologies should not develop faster than our ability to govern them, especially when it comes to their use in public services. To contribute to a joyful future for society, governments should adopt the use of DLTs, but do so through an inclusive and iterative process.
Want to read more about DLT use in the public sector? 
---
Other articles you may find interesting in the tech/policy space: 
---
More about the project: 
TOKEN eases the adoption of Distributed Ledger Technologies (DLTs) as drivers for far more open, transparent, trusted, and efficient public services.
Launched in January 2020, TOKEN (Transformative Impact Of Blockchain Technologies in Public Services) is an EU Horizon 2020-funded project. It aims to develop an experimental ecosystem to enable the adoption of DLTs as a driver of public service transformation. The project's vision is an open and collaborative government with trust, transparency, and efficiency at the core. During the 32 months of the project, the ecosystem proves its value through four highly replicable use cases common to many European public administrations. 
You can find more about the project here or visit its website here. Keep up with all the latest updates on Twitter.