Ylva's activities focus on real estate and financial investments and the hotel and restaurant sector. The business has been part of Helsinki's cityscape for the past 150 years. Its upcoming activities also look deep into the future. Demos Helsinki has been a long-time partner of Ylva's advisory board in developing Helsinki.
"The Helsinki of the future is in the making," goes the slogan of Ylva. 
Ylva has a long, 150-year history in Helsinki's streetscape. Locals have become well acquainted through the years with, for instance, the central Kaivopiha commercial and office complex, and the chain of UniCafe student restaurants. 
Helsinki is expanding rapidly, urbanisation is bringing new residents to the region, and the number of visitors is on the rise. Looking at the big picture, the real estate and restaurant sectors account for a significant portion of global material and carbon dioxide emissions.
"The ways in which the fields represented by Ylva function in terms of the environment and society are more and more important. Ylva has committed to becoming carbon neutral by 2025 in its business areas. Our collaboration is based on the successful resolution of this target", comments Demos Helsinki's senior consultant Henrik Suikkanen. 
Ylva has committed to becoming carbon neutral by 2025 in its business areas.
Ylva is a special organisation: a private, non-profit company owned by some 26,000 students. 
"The student-driven background means that there is a kind of responsibility to be a radical forerunner. As a partner, Demos Helsinki has taken part in coaching Ylva in considering what factors could drive change, what to participate in, and how to develop the organisation", Henrik Suikkanen sums up. 
One of Ylva's recent initiatives has been to give up serving beef at the UniCafe restaurants. 
"Ylva aims to set standards in a way that every new initiative is world-class in terms of sustainability aims. This is crucial when a city is being developed with a simultaneous aim of cutting down emissions. There is also a desire that stakeholders, such as the city of Helsinki and the business sector at large, take a more ambitious approach to achieving emission-free outcomes for future construction projects. Regarding their own construction projects, Ylva rather looks at a timespan of 150 years than seven years", Henrik Suikkanen says.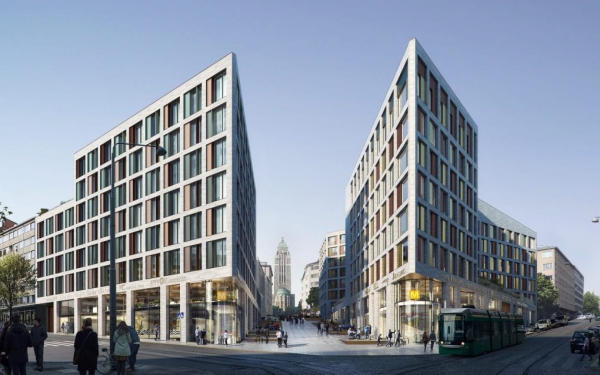 A city block of science and business in central Helsinki – Demos Helsinki participates in the Lyyra project at Siltasaarenportti 
Alongside the refurbishment of the Kaivopiha complex, one of Ylva's most visible construction initiatives is called Lyyra – a city block of science and business in downtown Helsinki. 
Demos Helsinki was in charge of shaping the vision and operational concept of Lyyra, as well as facilitating its design process. An important task was to consider how Lyyra connects more deeply to the development of the whole city of Helsinki. 
An important task was to consider how Lyyra connects more deeply to the development of the whole city of Helsinki.
The Siltasaarenportti plots in the central district of Kallio will be transformed into a city block with services catering for local residents, businesses as well as the university's research community. Lyyra will include apartments for visiting researchers, office spaces and shops.  
The Lyyra initiative has ambitious aims in terms of both social sustainability and counteracting climate change.
Ylva is aiming at a recycling rate of 95 percent in its renovation and demolition activities. The company will also pay special attention to questions of inclusivity at the construction site. 
"Ylva believes that building the world's most sustainable city requires the best possible standards at construction sites. In order to facilitate inclusivity, Ylva and Demos Helsinki have established a working group comprised of contractors and stakeholders which serves to develop inclusivity at the construction sites", Henrik Suikkanen explains.