Ever since the publication of its Economic Vision 2030 in 2008, the Kingdom of Bahrain committed an ever-increasing amount of resources and efforts to the intentional promotion of public sector innovation. Their approach entails a two-pronged strategy based on the creation of an environment conducive to innovation (for example, through incubators) and the active promotion of new ideas (for example, through awards). However, both of these tools would be void of impact if they were not empowered by bold and imaginative leaders envisioning and championing their use.
In this context, Demos Helsinki was commissioned by the Bahrain Institute of Public Administration to design and carry out an Agile Leadership training for high-level civil servants of the Bahraini government.
Why Agile Leadership?
The 21st century is already defined by the tension between stability and transformation. Governments have so far taken on the role of maintaining stability. However, as current crises increase in frequency and profoundness, governments must actively nurture and develop the growth of new leadership capabilities: ones for societal transformation. One of the emerging approaches that during the last decade have been devised to do so has been Agile Governance. Agile Leadership thus is a set of practices that:
Encourage innovative solutions built on visionary and imaginative thinking beyond current ways of governing

Promote methods of operation, planning and anticipating in multiple time horizons seamlessly

Allow the distribution of decision-making

Create resilience against systemic risks

Enable greater adaptability in policymaking
Agile Leadership can be applied at different levels and lead to different outcomes — ranging from the creation of cutting-edge digital public services to the imagination and enactment of entirely new cross-sectoral functions in government. To help the Bahrain government leverage the potential of Agile Leadership, Demos Helsinki worked with their Institute of Public Administration to:
Develop clear methods, frameworks, and mindsets of Agile Leadership and what they entail

Effectively identify opportunities for Agile Leadership in the Bahraini context

Become familiar with new methods and frameworks for implementing Agile practices

Promote valuable cross-sectoral connections among Agile pioneers across different entities of the Bahraini government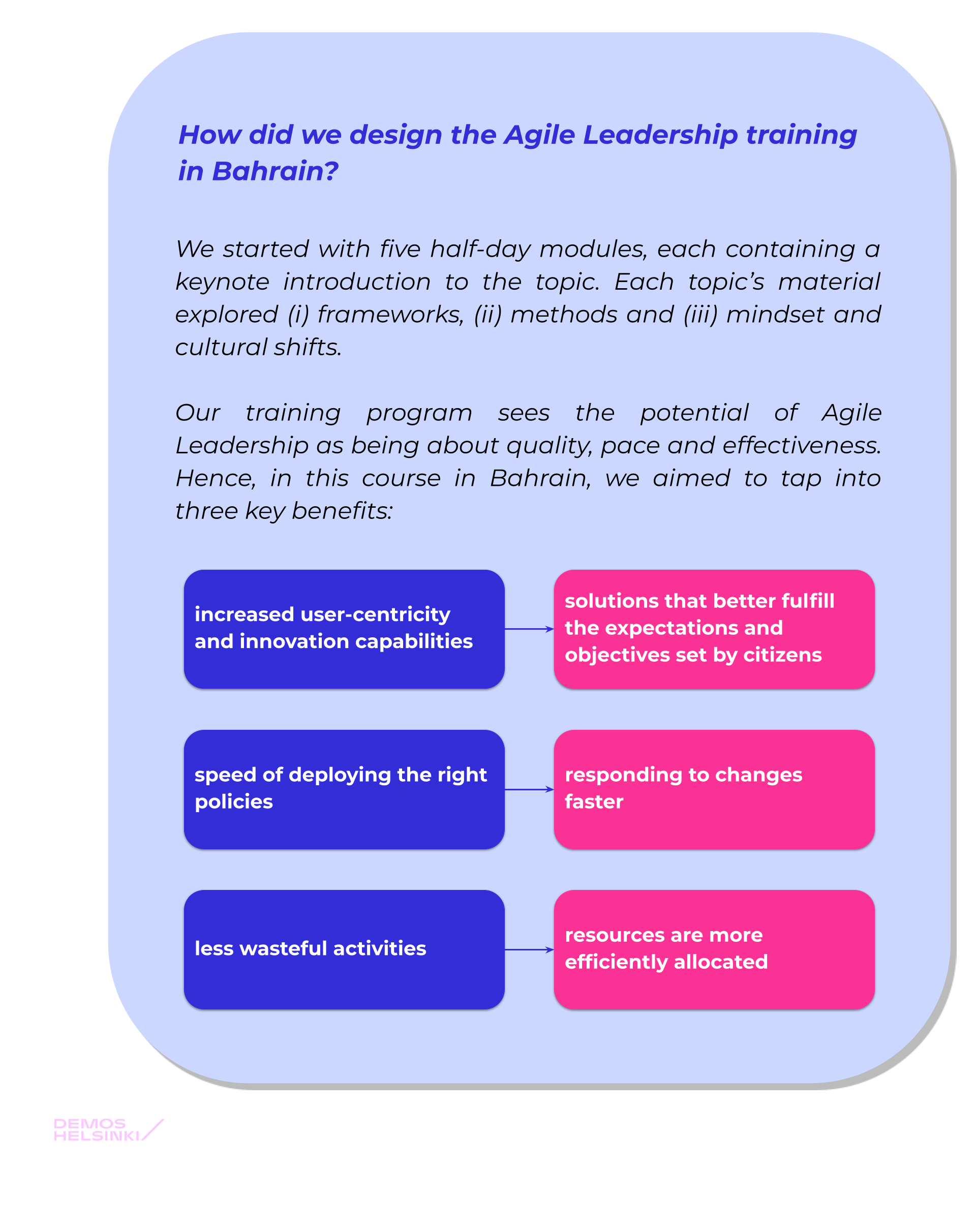 This training program is part of our mission to empower a civil service fit for the 21st century.
For more information on this project, or to build a training program targeted to your civil service, please contact:
Mikael Sokero
Senior Expert
mikael.sokero@demoshelsinki.fi
See examples of our work:
---
Feature Image: Leonid Andronov / iStock