Demos Helsinki has been working towards societal transformation for the past 15 years. There are now 50 of us. In 2019 we worked on 138 projects and in almost 30 countries. The previous decade is now wrapped up and the new one has truly brought enormous challenges. In the midst of all this, we are happy to welcome new additions to our team. Our new board members are Director General of the Finnish National Agency for Education Olli-Pekka Heinonen, and Demos Helsinki's Johannes Anttila as an employee member. Sari Baldauf and Mikael Sokero will continue as board members, and Geoff Mulgan will act as advisor to the board.
The coronavirus, and the COVID-19 disease it causes, have globally forced societies to inhabit a transitional stage. In this stage, surrounded by crisis, they focus on survival and taking quick, measured action one day at a time while trying to see past the crisis into the future.
It is clear that there is more demand for fundamental societal change than ever before. 
"The fact that the world has ground to a halt helps us to see what needs to be repaired in it, what to give up, what to keep, and what to rebuild completely", says Demos Helsinki's Chief Executive Juha Leppänen. 
This thought was recently picked up in articles in The Times and Helsingin Sanomat (article in Finnish), the largest subscription newspaper in the Nordic region. The Times wrote: "At the moment of crisis we need to revive our ability to throw our thoughts further into the future". 
Article references the report The Imaginary Crisis published by Geoff Mulgan and Demos Helsinki. It argues that overcoming a crisis requires creative thinking. The future will not descend from outer space, and many factors need to instead be imagined before a desirable direction can be taken. For some reason, people find it easy to imagine catastrophes, but visualising a road towards a better society is a lot harder.
"This is exactly why one of Demos Helsinki's most important tasks is to imagine a better future", says Leppänen. 
Wrapping up the old decade
Demos Helsinki will publish its 2019 annual report today. It is a comprehensive summary of work done in the past year around the world. The team of 50 employees and a wide network of partners participated together in 138 projects. In 2019, Demos Helsinki's employees worked in nearly 30 countries. 
"As well as imagining a new and better society, societal transformation requires action and knowledge based on strong scientific data. This is why we carry out consultancy and research initiatives with hundreds of partners around the world", Chief Executive Juha Leppänen explains in the annual report.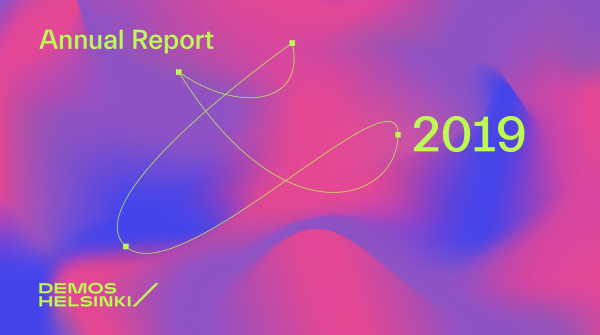 The year 2019 featured some magnificent initiatives. We took part in an initiative on the economy of wellbeing during Finland's EU presidency term that placed the wellbeing of people and the environment at the core of the economic system. We signed a framework agreement with the French administration on innovations and experiments. We participated in the launch of an educational programme on digital skills spearheaded by Google, Nesta and the Central Organisation of Finnish Trade Unions (SAK). In addition, we also kickstarted the Untitled alliance, an initiative that will offer a platform for the next 10 years for constructing a new societal model. 
Ensuring a research-based knowledge base, consultancy, a wide collaboration network and imagining a better society will create the framework for Demos Helsinki also for this coming decade.
Olli-Pekka Heinonen and Johannes Anttila to start as board members
New members were appointed to Demos Helsinki's board of directors in the annual meeting held in spring as previous members ended their terms. The new board members are Director General of the Finnish National Agency for Education, former member of parliament and minister Olli-Pekka Heinonen, and Johannes Anttila as an employee member who has been employed at Demos Helsinki as a consultant since 2017. 
Heinonen has a diverse understanding of the functions and management of public administration. Johannes Anttila is specialised in questions of the future of work, democracy and societal implications of technology. 
Appointed in 2019, Sari Baldauf and Mikael Sokero will continue as board members. Sokero will act as chair of the board of directors until autumn 2020. 
Demos Helsinki's first fellow is Geoff Mulgan, professor at UCL and former Chief Executive of the innovation foundation Nesta. He will also act as an advisor to the board. Mulgan brings a wide knowledge from the international field of research and innovations. 
"The new board constellation highlights international expertise and experience from the government sector,  the private sector, and the research community. Demos Helsinki is ready to take a big step forward and the board has a central role in supporting this", Mikael Sokero says. 
Demos Helsinki 2019 annual report: in English / suomeksi
More info: juha.leppanen@demoshelsinki.fi