We live in strange times.
By many standards, the world is a better place than ever before. We are wealthier than ever before and many of the UN millennium goals have been reached. Poverty rates have been halved and more girls are able to go to school. Solar energy has finally become competitive and two billion people have a device in their pocket that enables them to connect with people all over the world. Self-driving cars are being tested in many cities and artificial intelligence has developed faster than we expected.
Still, many feel like they have been left behind by this progress. According to studies, people's faith in the future is weak in the Western world. This lack of confidence has manifested in surprising, dramatic election results and politics that glorify the past and heighten confrontations between people. The fight against climate change is badly behind schedule and the long-triumphed promise of the internet's liberating power has turned into a destructive force.  It seems that globalisation didn't unite the world but brought geopolitics back.
Our societies evolve faster than ever and at the same time, many things are turning worse.
The fruits of progress aren't divided equally and the progress has brought us, as a side effect, risks that threaten the existence of the humankind. The million dollar question is, whether we manage to keep everyone on board and whether our planet can take this weight. It is the eleventh hour to start fighting climate change with radical actions and to make sure people have a reason to believe the democratic system will bring them benefits. The world as we have known it is built on the structures of the industrial era, and that structure is falling apart. Yet the vision of a new, sustainable and fair post-industrial society remains unclear.
This is why Demos Helsinki has reconsidered its goals and revised its organisational structure. We have realised that a Finnish-born think tank cannot stay at its office in Helsinki and expect the radical changes to appear only from there. Demos Helsinki's direction is clear: We want to actively impact the ongoing global transformations. We know the world changes only when people and organisations come together. The new Demos Helsinki's vision is to be a necessary platform for building the sustainable and fair post-industrial societies where the world's brightest and most affirmative changemakers can unite.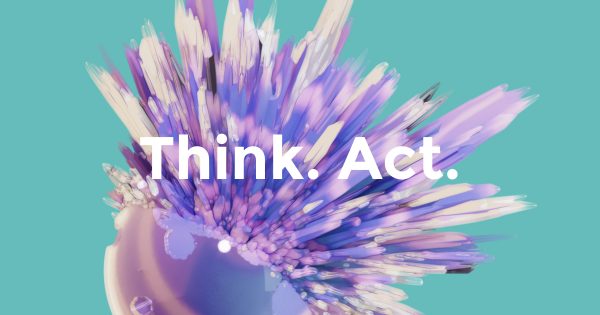 Demos Helsinki is a platform for changemakers
Thirteen years ago, Demos Helsinki was established when we noticed that nobody was paying attention to the practical meaning of the biggest megatrends of our times – climate change, technological development, globalisation of markets, urbanisation, and individualism, to name a few. Our think tank enabled our partners to understand these changes. Five years ago, in 2013, we understood that wasn't enough. We wanted to change the world at a faster pace and this led us to found Demos Effect consultancy to complement our think tank. Demos Effect helps our private sector partners to transform their operations in a way that the requirements set by the future are met.
At the end of 2017, we spent hundreds of hours with the whole staff thinking about whether we are focusing on the right things to achieve the change we want to see taking place. We understood that the 49 Demos employees cannot change the world as fast as we want. We have to be humble and curious, see our work in a more open way and actively search for new possibilities. Thus, our new strategy is to be a platform to make a change through multiple avenues. We are looking for new, still unknown operation models to complete our research and consulting work. We are in constant search for strong and committed national and global partners.
Our Creating the Next Era events provide a platform for interesting meetings. They bring together the world's brightest and most advanced thinkers with Finnish people. Our first guest is Evgeny Morozov who has been chosen as one of the 28 most influential European thinkers by Politico magazine. He discussed the question of digital geopolitics at Demos Helsinki's office on Monday the 22nd of October.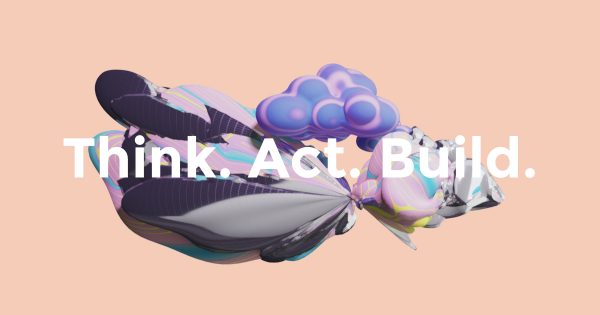 Demos Helsinki and Demos Effect unite
Demos Helsinki's vision, to be a globally influential platform for co-creating sustainable and fair societies, drove us to rethink our organisational structure at the beginning of 2018. We divided ourselves into six independent teams, each with their own hypothesis on how to best build the post-industrial society.
The Governance Innovation team is the international spear of Demos Helsinki and it works with developing experimental and inclusive governmental organisations with partners all over the world. Another spear driving global impact is the Radical Strategy team, which has already challenged some of the world's biggest companies to redefine their strategies to fit the future better. Science in Society works for strengthening the role of science and research in society to solve the world's biggest problems. The Urban Transformations team works towards carbon neutral and democratic cities. The One Planet Economy team develops solutions that enable resource-smart lifestyles and societies. New Horizons supports our society's central institutions from public organisations to labour unions and companies to respond to the post-industrial transformation. At the same time, it is on the lookout for new areas where Demos Helsinki can use our expertise and launches new teams. Besides all this, Demos Helsinki's Next Era think tanking work gathers together the teams' thinking into world-class publications and makes sure that Demos Helsinki remains in the forefront of understanding the big societal transformations of our time.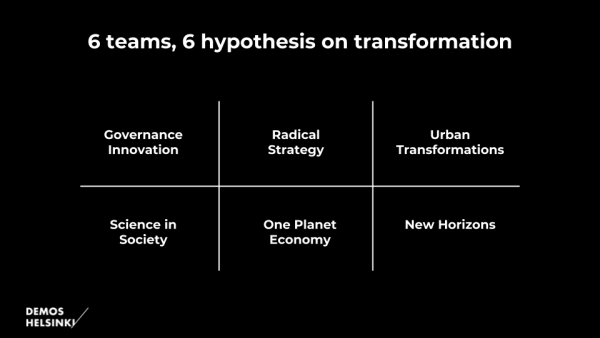 Now we are changing our organisational structure to better match our ambitious goals. From now on, our think tank work and agenda-setting will be done in the not-for-profit association Demos ry. The practical work of driving change will be done in Demos Helsinki oy and Demos Research Institute oy, both owned by Demos ry. Demos Helsinki oy specialises in consultancy and Demos Research Institute oy in academic research and its social interaction. Because transforming organisations together with our partners is our most important way to have an impact, we will move all our consultancy work to Demos Helsinki oy. This way we can increase the volume of our work faster and more internationally. At the same time, we direct more resources to our think tanking work and finding new routes to societal change. The most significant change visible to the outside world is that from now on we work under one brand: Demos Helsinki.
Demos Helsinki has, since Day One, been built on the idea that change can only happen #together. With the launch of our new strategy, we are more interested than ever to find new partners in Finland and all over the world, experiment with completely new ways of cooperation and recruit curious individuals to join our crew.
We need you to join us in building sustainable and fair post-industrial societies. If you agree, drop us a line!