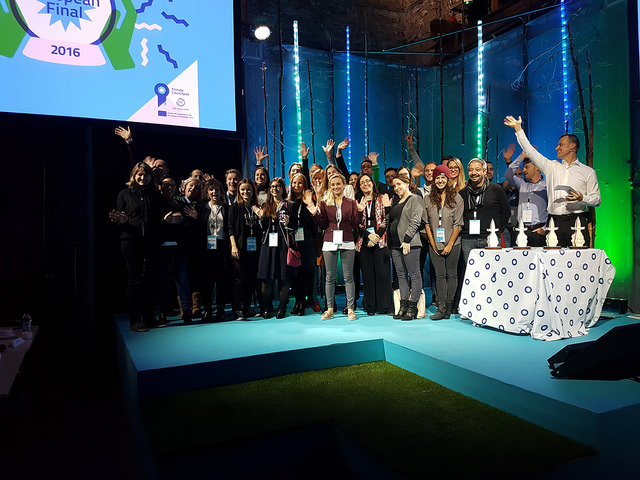 Creating products and services that help us live comfortably and with zero carbon emissions is not only crucial for our planet, but also a treasure trove of business opportunities. The scarcity of natural resources and climate change are absolute game changers for our future lifestyles.
All of this was evident in the European finals of ClimateLaunchpad, the world's largest cleantech innovation competition. The grande finale of the 6-month program was held in Tallinn on 7.-8.10.2016, where a total of 87 teams from 30 different countries presented their business solutions to climate change. Out of these, 15 teams were admitted to the demanding Climate-KIC Accelerator programme.
During the two days in Tallinn, the finalists presented many bold and visionary ideas for a cleaner future. If the ideas will fly – and why wouldn't they? – soon we will wear clothes we don't own, drink desalinated seawater, and drive a bicycle made of recycled material (when we're not using a shared e-scooter instead).
The big part of the solutions presented in Tallinn, were related to waste management and other aspects of circular economy. Peloton Club of Demos Helsinki focuses more on consumer-cleantech, scalable solutions that shape our lifestyles, meaning ideas related to smart housing, smart mobility and smart energy. As Frans Nauta, founder of ClimateLaunchpad said in the finals: "It takes 100 000 startups to fix climate change".
Here are the 15 winning teams of ClimateLaunchpad 2016:
Simple liquid batteries will produce power banks that work on waste liquids.
2. Cryotap freezes seawater for potable water.
3. Chrysalis turns waste wood into biofuel and paper
4. Matter makes construction matter out of waste from wine, beer and coffee production
5. Faro turns plastic waste into pellets into the markets of developing countries
6. Gleather turns waste from meat industry into a leather-like-material
7. WaveCo produces energy out of waves
8. Salcape captures co2 and other emissions from industry with filters
9. Level 5 innovations maintains solar panels functionality by retrofitting protective surfaces on panels
10. Felyx is an e-scooter sharing service
11. Black is the new green regenerates biowaste into the carbon fibre
12. Spongey is a product that cleans oil from seas
13. Modvion is a modular wind mill made out of wood
14. Nano Clean cleans clothes without water
15. Unfrozen reduces carbon emissions of airplanes by ice repelling coating
See all the European finalists here.
More information about ClimateLaunchpad:
ClimateLaunchpad is the world's biggest cleantech innovation competition. It aims to identify and push forward the most promising ideas and teams to tackle climate change. Out of the 40 Finnish teams that applied into the Finnish program, 9 were helped to make their solutions viable and attractive investors by Demos Helsinki. Finnish national winners were GasCow, Padurn and RINS.