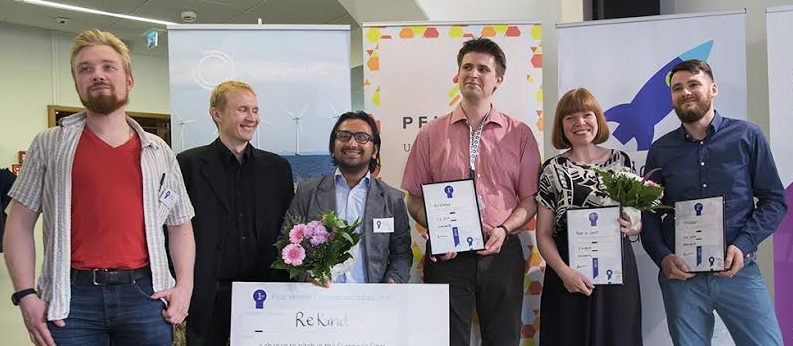 [Photo: Roope Kiviranta]
The Finnish finalists of ClimateLaunchpad, the world's largest cleantech idea competition, have now been selected. The Finnish finals were held on 15th June in sunny Helsinki, taking place at the Microsoft Flux collaborative space. The three winners (short description of each) will now head to Tallinn, where the international finals will be held in September. The winner of the international finals will get to develop their idea at the prestigious ClimateKic Accelerator, a Europe-wide startup incubator.   
ReKindle – who won both the jury and audience vote – offers a subscription based service that supplies anaerobic biogas to medium-sized and large restaurants in Nepal by reusing their own organic wastes. ReKindle's aim is to provide not only an affordable and accessible, but also reliable and renewable option for restaurants' fuel self-sufficiency.
Padurn develops digital people counting solutions to provide the data needed for implementing the principles of resource efficiency as well as sharing and circular economy inside buildings. Besides reduced rent and energy costs, the benefits of the solution include decreased environmental impact.
Rent-in-Shop offers a platform through which consumers can lease high-quality garments directly from their favourite brands. By paying a weekly fee, customers can enjoy using a beautiful garment for as long as they want. By bringing fashion to the post-ownership era, it is possible to use clothes without the burden of storing, re-selling or recycling.
The aim of ClimateLaunchpad is to foster and scale solutions for climate change. By accelerating the growth and product development of hundreds of startups, ClimateLaunchpad hopes to give rise to concrete solutions for a resource-smart, pollution-free society.  
In total, 40 teams applied for the Finnish leg of the competition when it launched in early 2016. Out of these, a jury – compiled of cleantech experts and startup gurus – selected 9 teams to attend an intensive bootcamp and mentorship scheme.
Members of the jury:
Tarja Teppo, founder of Cleantech Invest
Sami Kuusela, founder of the Hupparihörhö startup consultancy
Jaana Pylvänen, Innovation Director at Kora
Mira Jarkko, Environmental Expert at the Environment Centre of the City of Helsinki
Tuuli Kaskinen, Director of Demos Helsinki
The competition was organised by the Peloton Club of Demos Helsinki, Impact Iglu at Aalto University, Maj and Tor Nessling Foundation, Aalto University and Climate-KIC.
Contact:
Johannes Mikkonen, Demos Helsinki, johannes.mikkonen@demoshelsinki.fi, +358405694948
Avinash Dhital, ReKindle, avinash.dhital@gmail.com  
Kenneth Dooley, Padurn, kenneth.dooley@aalto.fi
Anniina Nurmi, Rent-in-Shop, anniina.nurmi@gmail.com