More than 70% of global emissions come from cities. This has not stopped the urbanisation rate from growing: every 30 minutes, 540 families migrate into cities around the world. Smart City Expo Casablanca brought together experts from three continents to share thoughts on the role of smart cities in mitigating global climate emissions. Digital disruption is proving promising with for many African cities. New solutions can enable them to take a development leap and improve their quality of life faster than projected.
"The most important thing in building smart cities is to put people first", stated one of the opening speakers, Uwe Seidel, a senior consultant from German VDIVDE. But this has not been the case in most of the cities – not in Africa, not in many others either. 
Until the very last few years, the smart city conversation has centered exclusively on technology. Now questions such as how can we enable automatic lightning, self-adjusting heating, or even autonomous vehicles, are starting to fade to the background. Now smart cities are starting to be less about technology. As the United Nations' Chief of Sustainable Lifestyles, Arab Hoballah, put it: "High tech is a tool that can be used for a given purpose. It needs to be used for achieving sustainability and quality of life."
Nordic cities pave the way with ambitious climate goals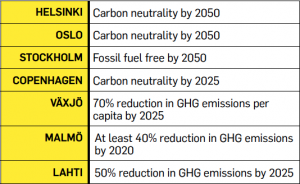 Over the last decade, many Nordic cities have taken upon themselves the task of becoming forerunners in sustainability, particularly in reducing their climate impact (see Table 1).
According to Hoballah, it is to be expected that other cities will follow this lead. "The awareness of climate issues has risen among not only the politicians but also the citizens."
Now, being a forerunner in environmental matters garners social and economic benefits, all of which will grow in importance in the future. City of Växjö's shift to biomass, for instance, has enabled the city to become less vulnerable and less dependent on energy from outside the district.
In his speech, Demos Helsinki's researcher Mikko Annala pointed out that also the private sector is getting involved. "Now, sustainability has also started to make economical sense. When this awareness goes deeper to the traditional value chain of built environment, smart really starts to happen in cities."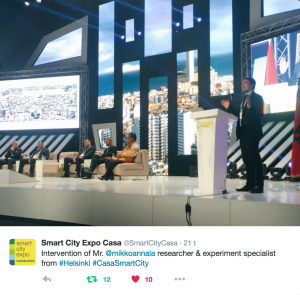 Digitalisation is building an overtaking line for African cities
What happens to African cities next? According to Hoballah, they will take unexpected development leaps. "African cities can, and probably will, develop fast, because of digitality", said Hoballah. "Because of smart phones, the kids have the world in their pockets".
Still, Africa is not turning into a smart continent overnight. Some development that can happen fast in Copenhagen, can still take 10 years to happen in an African city. "Let's say we want to promote biking culture. In Copenhagen, we need more biking lines, and people start biking. Here, you need to build the lines, but you also need to provide people bikes, and you need to educate them about the benefits, perhaps even teach them to bike! It is natural that countries start from different starting points for development", Hobullah says.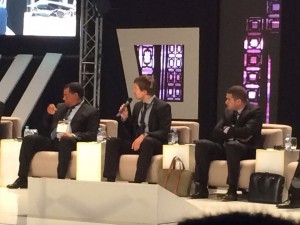 But still the emerging digital layer will change cities, faster than they have ever changed. Many Africans got their first ever access to banking because of digital devices. "Now, they can even trust these services more than the traditional ones", Annala says. This can, and probably will, happen in the context of sustainability as well.
UNEP's Arab Hoballah's TOP 4 list for what's needed for smart transformation in 2016
1) Consult the companies. Sustainability makes more and more economical sense, but many of the businesses have not realized where the new markets are.
2) Find ways to engage the inhabitants in city development. Educate people and make smart & sustainable solutions so easy that people don't need to choose them and they will become habitual.
3) Build new public-private models. For example, city mayors should actively engage with relevant companies, not wait for the companies to come. New collaboration models will accelerate smart transformation.
4) Leverage public procurements for smart transformation. In Europe, 15-30% of municipality budgets are used for public procurements – turn them smart, take risks, and innovate!
Check out Mikko Annala's presentation "The "Problem with "SMART CITIES" – Nordic Cities Beyond the Digital Disruption" on Slideshare here.
Read the Demos Helsinki report, Nordic Cities Beyond Digital Disruption:
https://demoshelsinki.fi/en/julkaisut/nordic-cities-beyond-digital-disruption/