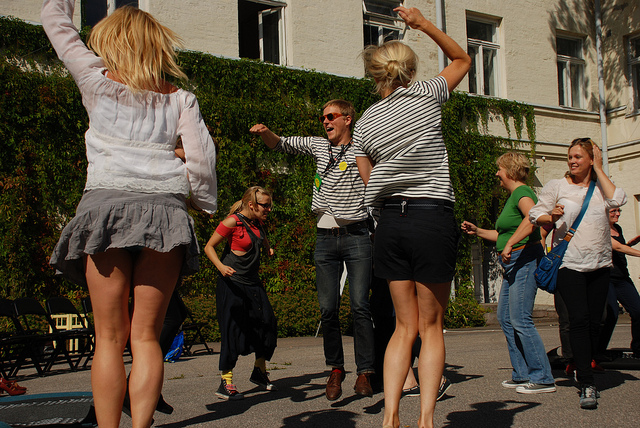 Smart doesn't have to mean boring. As city officials, corporations and other traditional institutions get on board with Helsinki's thriving participatory urban culture, the Finnish capital is turning into one of the most exciting cities in the world.
Nordic think tank Demos Helsinki says the prospering urban commons is a result of Finland's long history of innovations in democracy and equal rights.
The city's Restaurant Day – a four-times-a-year event that offers anyone the opportunity to set up a restaurant, café, or bar, anywhere in the city, without the need for official permits – has made headlines around the world. But there is a lot more to the Nordic capital.
Helsinkians are claiming ever bigger ownership of their city and new urban concepts are appearing left and right:
Dinner under the sky is an annual celebration where all Helsinkians can set up a table outside and enjoy their dinner on the city's sidewalks, parks, or even its busiest shopping streets.
Sompasauna is a new movement of self-service open saunas in the city, built and maintained by volunteers. The saunas are open 24/7 in the summertime and free for anyone to use. Come prepared to cut up your own firewood though: a saw and plenty of wood is provided.
The city's public libraries are expanding their offerings as well and now supply free rentals of things like bikes, chairs, outdoor social games, and traditional instruments. Some even have karaoke booths. "We want to offer knowledge, but also experiences," says publicist Päivi Autere of Finland's oldest library.
Somewhat ironically this same kind of movement is gathering pace across the Atlantic, although in a very different social setting. The Nordic idea of commons is modified, user-tested, and scaled in Silicon Valley, where the epitomy of participatory culture is the Burning Man Festival. "We do the same as they do everyday in Helsinki. At least everyday of the summer," says founder Roope Mokka of Demos Helsinki.
So what makes this remote Nordic capital such a forerunner in urban culture?
Finland's leading independent think tank, Demos Helsinki, has 10 years of experience in researching and promoting democracy in the Nordics. Demos Helsinki is known for linking together citizens, corporations and the public sector, and co-creating new and exciting innovations in the process.
Juha Leppänen, Head of Democracy and Capabilities at Demos Helsinki, explains: "Finland has a long tradition of democracy and collective ownership of the public sphere. Traditionally, this has been conducted in nature, for instance with bills like "everyman's right," which gives everyone free access to roam and camp on nearly all land, pick berries and mushrooms, and catch as much fish as they like. That same idea is now translating into cities and the urban environment."
This August Demos Helsinki is organising a huge co-thinking jam at international music festival Flow. The event is complete with urban design workshops and international keynote speakers. The idea is to help participating companies, from innovative construction firms to the City's Urban Planning Department, to scale up their concepts and connect with urban early adopters.
Demos Helsinki founder Roope Mokka says, "We're seeing huge demand from companies for participatory urban culture. The fact that traditional institutions are getting involved [in participatory culture] means that Helsinki can be as exciting and lively as Berlin or Detroit, as safe and wealthy as Geneva or Singapore, but remain affordable, walkable, smart and family-friendly, like Helsinki today."
Read more on the future of cities in Demos Helsinki's Nordic Cities Beyond Digital Disruption report
Also follow Demos Helsinki on Facebook and Twitter
For further reading, check out:
 Why do our cities change so slowly? There are 4 reasons behind it
The new normal of cities – six things that define it