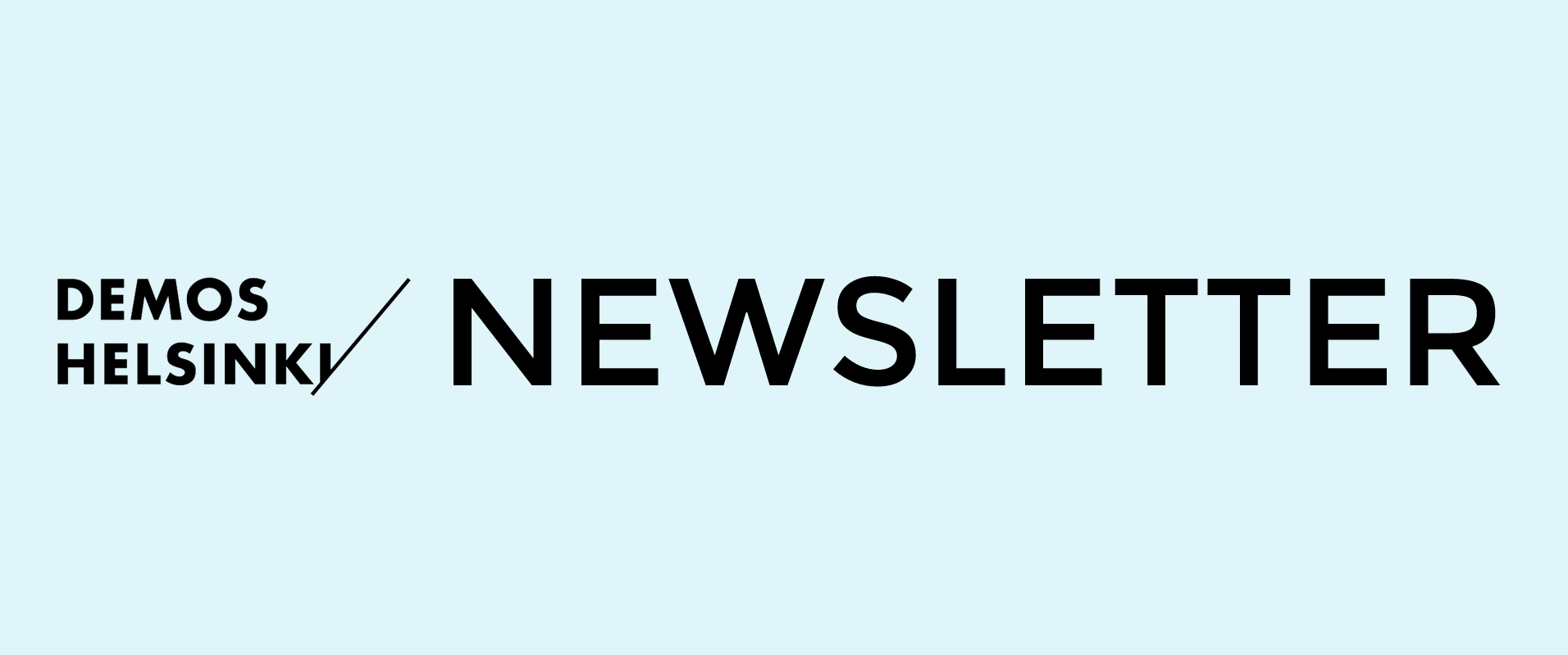 Subscribe to our quarterly newsletter here
LATEST THINKING FROM THE NORDIC THINK TANK
This is Demos Helsinki's bulletin on the most curious ideas shaping the future.
Permafrost? No worries, the spring is just around the corner!
Earlier this year The Economist wrote how Finland, as the euro zone's only Nordic member, struggles to thaw its economy. Titled "Permafrost", the article repeats the same old story that begun with the global financial crisis of 2007–2008: Declined GDP, fall of Nokia due to smartphone era and sagging productivity together with high unit labour costs.
Add a little bit of lament about shrinking workforce, plunged exports to Russia and some yearn for domestic currency, and you'll have classic, run-down view of the land of a thousand lakes.
While the article highlights how Finland has suffered "extraordinary combination of adverse shocks", it also mentions that the nation "is well-placed to find new sources of growth". However, we think the latter is not quite stressed enough.
Naturally, Finland – with other Nordic countries – might have its own little pitfalls as a nation, but here are some examples why one shouldn't be too worried about the future.
FINLAND IMPLEMENTS THE BASIC INCOME EXPERIMENT
Instead of speculating on the impact of proposed policies such as basic income and environmental taxes Finland will now experiment, measure and scale. This is why Finland is able to implement the basic income experiment, and here are five views on why basic income should be and why it matters.
GOOD RESULTS ARE BOUND TO HAPPEN WHEN EXPERTS ARE BROUGHT TOGETHER
The Basic Income Hackathon brought together coders, researchers, activists, thinkers, politicians, graphic designers, information designers and communication specialists interested in developing ideas around a universal basic income scheme. The event was organised by Sitra, Demos Helsinki and Open Knowledge Finland and implemented as part of the Experimental study on a universal basic income, led by Kela, the Social Insurance Institution of Finland.
GETTING READY FOR THE FUTURE WITHOUT GADGETS
The Internet of Things has caused quite a stir around the world. Demos Helsinki released a publication about its next phase, the Internet of NO Things in Slush 2015. The scenario report investigates five most important tensions in the future of hyperconnected society through two different scenario visions, The Gardens and The Streets.
A VAST NEW BUSINESS OPPORTUNITY LIES AT THE INTERSECTION OF RESOURCE SCARCITY, THE RISING COST OF FUEL, DIGITALIZATION AND USER-CENTRICITY
The new wave of cleantech, consumer cleantech, refers to consumer targeted solutions that decrease the use of natural resources. With the correct and timely actions, the Finns can grab their share of the rapidly growing consumer cleantech market – a market expected to be valued at hundreds of billions in just the five following years.
LIVEABLE CITIES BEYOND DIGITAL DISRUPTION
Finnish and Nordic cities are already setting a globally high benchmark for future cities. Nordic Cities Beyond Digital Disruption publication introduces a new way to develop vibrant and smart cities. Smart urban services provide new jobs and make cities more liveable. In April Aleksi Neuvonen will be speaking on future of smart and sustainable cities in Nordic Innovation House Palo Alto.
CURIOSITY, THE HIDDEN WEALTH OF NATIONS?
One thing that Finland is famous for is its educational system. However, schools in Finland are not anywhere near perfect. In order to turn great education into economic success schools should focus more on nurturing curiosity. We researched the topic already back in 2013, and came to the conclusion that hidden competences are nations unutilized resources.
[wysija_form id="3″]