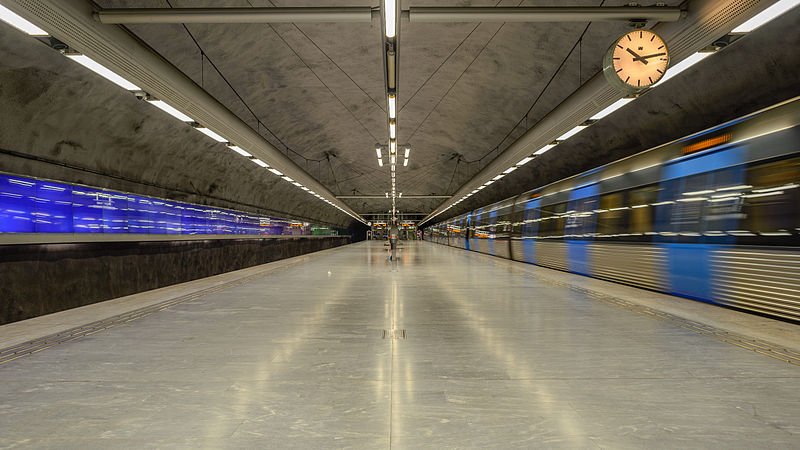 One exceptional neighbourhood in Stockholm is taking the lead in smart urban development
"Bagarmossen is Stockholm's friendliest neighbourhood," says Tobias Lind with a smile on his face. Lind knows the city inside out: he has 10 years' experience in developing suburban areas in Stockholm and now works for Stockholmshem, Sweden's second-largest residential housing firm.
A 20-minute underground ride away from the city centre, the suburb of Bagarmossen is the sort of place where strangers greet you on the street and your lost hat is found and returned to you on the same day. "The area even has a close-knit Facebook group, called Bagis. There are over 2,000 members in it but the conversation is like friends talking to each other," says Lind.
Lind is the Project Leader for "Bagarmossen Smartup," an initiative that seeks to capture the local commitment to sustainability and strengthen the positive trend in Bagarmossen. The project's vision for Bagarmossen is to contribute to a more sustainable neighbourhood by supporting the local qualities and creativity that thrives in Bagarmossen. One part of the project is to turn Bagarmossen into a hub for entrepreneurship, with co-working places and lively local services. Stockholmshem owns 5 per cent of the entire apartment stock in Stockholm and the majority of the buildings in Bagarmossen. Stockholmshem and the Smartup project is an official partner of Smart Retro, a Nordic-wide scheme run by Demos Helsinki, that aims to cultivate greener, more liveable cities through smart urban service development.
Smart Retro is a novel way to develop cities
Stockholm's Bagarmossen is a classic example of a Smart Retro area. The community was established in the 1950s when Stockholm's subway system grew and expanded into the suburbs. Many high-rise buildings were built here in the 1960s and 70s as part of The Million Programme (Miljonprogrammet) implemented in Sweden between 1965 and 1974. Aiming to give everyone a modern home at a reasonable price, it was one of the most ambitious public housing initiatives in the world, and created over a million new homes in a nation of only eight million people. By 2010, 650 000 of those homes needed to be renovated.
"These buildings originate from a time before climate change was considered a problem," says researcher Josefin Wangel; she specialises in sustainable urban development at Stockholm's KTH Royal Institute of Technology. The Smart Retro approach recognises the serious energy inefficiency of our now-aged building stock and aims to use its widespread renovation as a means to usher in greener solutions with retrofitting. The idea is to rejuvenate local services in the process. These will help shift the focus from the city centre and mega shopping centres, back into the local communities in the suburbs themselves.
Smart Retro is about connecting people
The Folkets Hus, or the local community centre, in Bagarmossen, is Smart Retro in practice. Stockholmshem owns the now-dilapidated property and has plans for its future. Lind explains: "Bagarmossen is roughly divided into two areas: the large grey 70s high-rises on Byälsvägen and then the townhouses around that area. We want to combine the two communities by turning the centre of Bagarmossen into a new meetingplace. My aim is to work with the Folkets Hus – its 1700 square meters is as central as you can get in Bagarmossen. What I want to do is to invite the entrepreneurs from around Bagarmossen into the Folkets Hus to work together. Maybe put in a family restaurant, a lunch restaurant; many people are asking for that. We have a lot of residents in Bagarmossen who are authors, freelance journalists and illustrators. I just met a crossword maker – these people work alone and could benefit in several ways to meet up with other people."
Folkets Hus was also the venue for Demos Helsinki's second Peloton Smart Retro Innovation Camp in January. The event brought together 13 innovative startups from all over Europe:
"Smart Retro is a possibility for us to invite in the entrepreneurs that we want to reach and bring them into the local context.
I like it because you make quick connections; it's getting really concrete. There are a lot of possibilities to create things more quickly. It's a great start for what I want to see happen here,'' enthuses Lind.
And Bagarmossen is just the beginning
"The solutions developed in Bagarmossen can be applied all around Stockholm. It'd be great if Stockholmshem could set an example for other companies too, on how you can work with urban developers in existing areas," says Lind.
Smart Retro addresses a global problem. The yearlong project aims to develop, test and prove a globally applicable model for developing better cities. Bagarmossen is leading the way in what will eventually be the suburb of the future.
(Photo: Arild Vågen, WikiCommons)
—————————————————————-
Liked this post? Follow Demos Helsinki on Twitter and Facebook for cutting-edge ideas on the future.
For further reading, also check out:
– Demos Helsinki discusses Finnish schools in the latest issue of Monocle
– Can strong foresight orientation make a nation successful?