Imagine being CEO Rajeev Suri, leading what was once known as the world's largest mobile phone brand and one of the most valuable companies on the global market: Nokia.
Your firm is now heading to oblivion after selling its mobile phones to Microsoft. The economy of Finland is going downhill with you. Like Wired wrote back in 2013, the fall of Nokia has decimated Finland's economy: "By 2000, Nokia accounted for a mindboggling 4 per cent of Finnish GDP, 70 per cent of Helsinki's stock exchange market capital, 43 per cent of corporate R&D, 21 per cent of total exports and 14 per cent of corporate tax revenues. It was and still is unprecedented. Internationally the massive company from the tiny country peaked in 2006 taking 41 per cent of the mobile phone market worldwide."
But "in the last 10 years failure to keep up with Apple, Google and Samsung has cut €200 billion (£168 billion) from Nokia's market value. Its percentage of Finland's GDP has fallen from 4 to 0.4 per cent (up from a negative in 2012), its share of exports has more than halved and its share of Helsinki's stock exchange market capital has plummeted from 70 to 13 per cent."
It is not exactly the time to start your large acquisition spree. And yet, all of a sudden, you acquire Alcatel-Lucent – a French-American technology behemoth.
Why would you do that? Wasn't your company in decline?
Not so fast. What Rajeev Suri and his team at Nokia are doing is backcasting their way out of a dead-end, and so should you. Suri's team call it their "future back" strategy process. Demos Helsinki have developed the same method for the past 8 years: here we call it, quite simply, backcasting or "counting backwards."
So what is backcasting? In essence it is a scenario-building technique that starts with a desired future where the company has reached its long-term goal (this can be anything from new disruptive products, leading market positions, or leaps to completely new markets). Backcasting then constructs several different pathways from that future vision to the present moment.
This provides the firm with a better understanding on the alternative routes to that vision, as well as how feasible the other options might be compared to the default one:
Usual approach to the future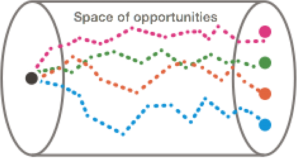 The backcasting approach to the future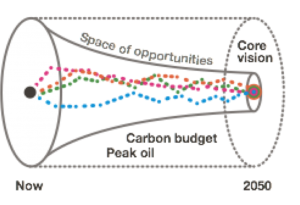 *Image: The Natural Step (as cited in the Demos Helsinki report SPREAD – Scenarios for Sustainable Lifestyles 2050: From Global Champions to Local Loops)
Even more importantly, backcasting changes the mindset of the company leadership in two distinct ways:
Starting from the distant future makes you better at grasping time proportions. Quite often during the process you will build a visual timeline on which you then place your various backcasting scenarios. So, if you have until the year 2025 to reach your goal of becoming the biggest technology provider for smart cities, your company should probably make sure to be on that track by 2020. And if that goal requires being the dominant actor in ICT networks, then you'd better start acquiring competitors soon to come out on top on time in the fiercely competed market. And since completing a successful merger usually takes several years, you should make sure to start the acquisition process now, and not wait another 3 years.
Usually making a great leap forward requires a lot of un-learning, both individually and collectively. This is what backcasting can bring about in the firm: instead of perceiving current trends and your company's current trajectory/incremental development as the reality, you start treating other conflicting issues and emerging signals more seriously – as real as the past development you and your colleagues have before collectively witnessed and agreed to be the reality. This means that you also start seeing new opportunities in things that used to be irrelevant to your business. Additionally, you start to discern new constraints to things that used to be pivotal to your company's strategy. There are many good examples of this: if you are an energy utility company that runs a number of coal burning power stations and you start backcasting your future from a carbon neutral vision, you probably end up seeing constrains on your way to your current strategy. If you are a waste management company and start backcasting your future from the distant future to the present, you probably end up noticing the trend of emerging resource scarcity and that your company is increasingly in a strategic position with regards to deposits of some of those scarce resources.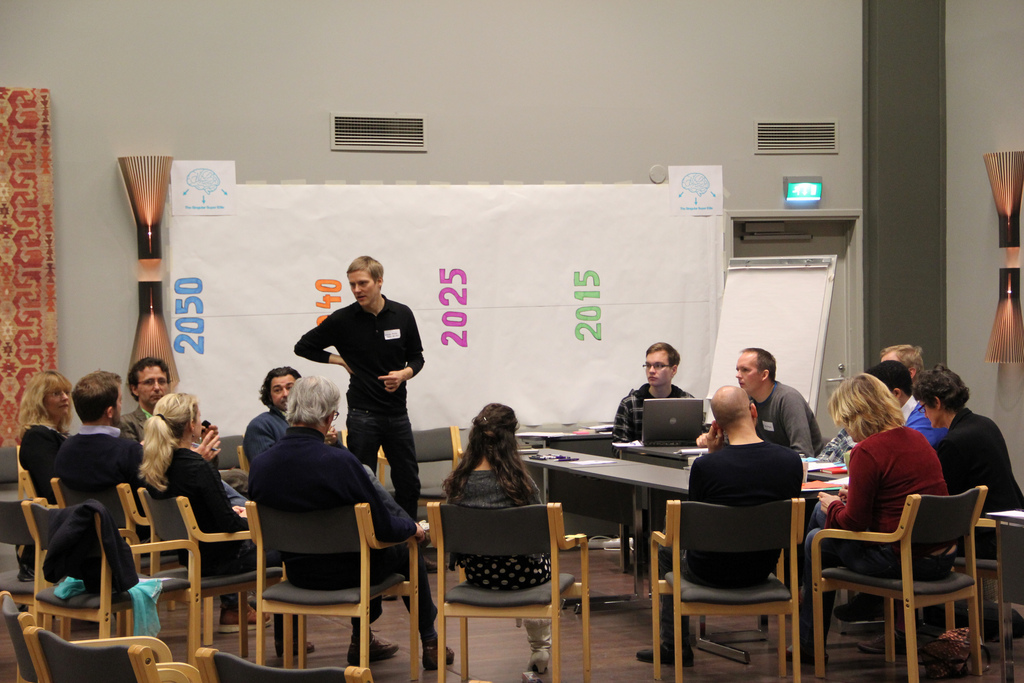 Demos Helsinki has organised its inspiring backcasting workshops for the past 8 years.
Backcasting is more important to your company's strategy than ever before. We are living in an era of disruption that will result in a shakeup of existing markets and industries, and push an even greater number of companies into oblivion. These disruptions are caused by a number of parallel big changes in the operating environment of companies, brought about in turn by megatrends such as digitalisation, climate change and urbanisation.
Of course some companies manage to make a successful leap over these disruptions and find new uses for their existing assets and strengths. It is, however, not only luck that helps them over the hump. Many of them use strategic tools, like backcasting scenarios, built to weather those disruptions.
What do you do when you are running at full speed towards a dead-end and start to realise there will eventually be nowhere to go? Many just keep running until they hit the inevitable result: a dead-end where you have to turn around, having wasted many moments of (usually quite valuable) time.
Alternatively you can start to think of the alternatives… what should you do NOW if you were to reach the goal that you are want to achieve? What are your alternative routes for getting there in time? Look to the future and then back.
——–
The Nordic think tank Demos Helsinki has developed the backcasting scenario method for the past 8 years. In 2009 we published a book that presented scenarios on the future of the consumer society, written together with a team of experts from a number of industries, including several from Nokia's foresight team. In 2011 Demos Helsinki published Scenarios for Sustainable Lifestyles 2050, a report that was co-created with a group of 55 experts from across Europe, as part of a project team that included such companies as Bonnier, Henkel, Nokia and Skype.  Demos Effect, the consultancy arm of Demos Helsinki, currently runs foresight projects with companies like Ikea, Fortum, Skanska and Stora-Enso.
Further reading from Demos Helsinki:
Social Silicon Valley Manifesto: Towards City 2.0
Scenarios for Sustainable Lifestyles 2050
Academic journal article "Low-carbon futures and sustainable lifestyles: A backcasting scenario approach" in Futures