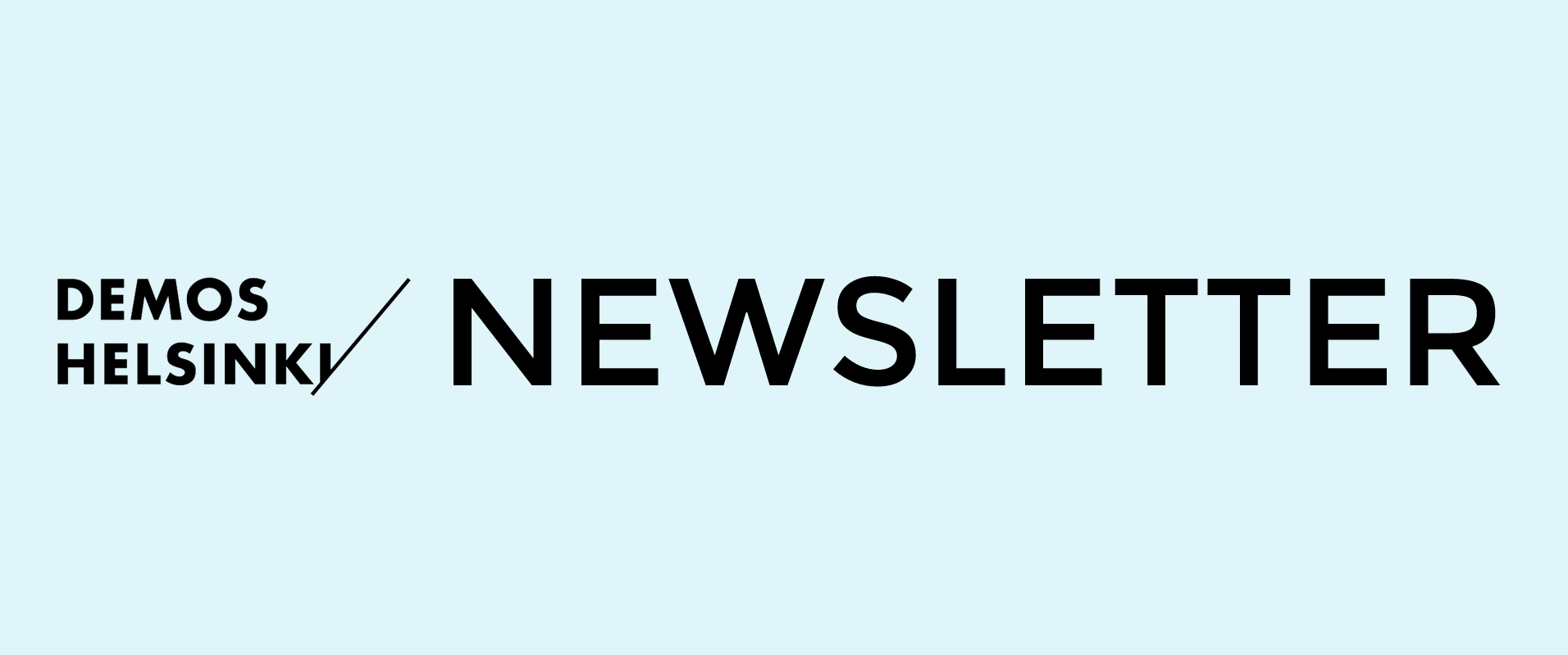 Subscribe to our quarterly newsletter here
LATEST THINKING FROM THE NORDIC THINK TANK
This is Demos Helsinki's bulletin on the most curious ideas shaping the future. This month we highlight some of Demos Helsinki's freshest as well as reintroduce few of our most successful cases from ten years of designing urban life.
FLOW TALKS
We kickstarted Flow Festival 2015 with pop-up innovation unit co-creating urban prototypes. It was deployed by the City of Helsinki, top universities' advanced technology labs and corporate partners from construction and housing. Watch how UK urbanist and designer Dan Hill sees the potential of Nordic cities making sharing truly sharing, and how Pekka Sauri, the Deputy Mayor of Helsinki, describes the biggest change in his hometown in the last five years. And see you at Flow Talks in 2016!
SMART GOES RETRO
Most of the buildings of 2050 have been built. To make this massive existing stock smart is one of the most interesting value pools there is. Smart city will be retrofitted. It can turn around entire neighbourhoods, helping them to create sticky wealth and wellbeing locally. We have developed Oslo, Stockholm and Lahti with this insight in mind. Click here to read more about this Novel Way to Develop Cities.
THE AGE OF SMARTUPS
The Nordic smartup community is vital and attracts interest globally. The new crowdsourced delivery service PiggyBaggy has been selected as a finalist in the SXSW Eco Startup competition and is accompanied in Ecosummit with Fourdeg, which dramatically improves energy efficiency in buildings and district heating network. Bleeve and Tuup are service integration platforms, one for transportation and the other for energy. They rocked the house at the smartup meetup at Rockstart accelerator in Amsterdam.
DEMOS CLASSICS VOL 1: CITY 2.0
Can future cities become high tech slums, self-built and collectively governed by the people? Towards City 2.0 is an award winning urban vision by Demos Helsinki from 2007. It is a futuristic vision of a user-led city development. We feel that this model of metropolitan democracy, based on local participative governance, foresight and social venture capital might be even more relevant today.
DEMOS CLASSICS VOL 2: WELLBEING OF THE METROPOLIS
What gives international competitive edge to the metropolis in the future? In this analysis of urban regions' competitive assets, we argue that due to complexity and other global megatrends the strength of a region lies primarily in the realised combination of the capabilities of its citizens: thus sustainable success of the metropolis can only arise from its people, with whom it can create well-being in the long term.
48 PUBLICATIONS, 450 KEYNOTES
Demos Helsinki turned ten years! We collected some key figures from our journey. By clicking this link, you will discover how many post-it notes does a think tank use in ten years among other more or less relevant data points that reveal what a think tank is ultimately made of.
UPCOMING EVENTS
We hope to meet you soon and get to work together, catch you at a conference or in a workshop. Perhaps you will join us at Smart Cities Stockholm or Slush?
RETRO-FITTING OLD ENVIRONMENT
SMART CITY CONFERENCE
Stockholm, Sweden
20-21 October
SOFTWARE AND HARDWARE MEETS CONCRETE
SLUSH
Helsinki, Finland
11-12 November
[wysija_form id="3″]