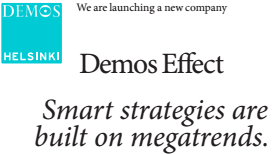 After almost ten years of existence Demos Helsinki takes a remarkable step forward: we launch Demos Effect to help businesses to reach for markets growing from wicked opportunities. "Wicked opportunities" arise from "wicked problems", a category of problems like the climate change, natural resources scarcity, obesity and other lifestyle diseases, that differ from what business is used to solving in the sense that they can never be totally solved. Demos Effect will operate in Nordic countries with offices in Helsinki and Stockholm. With this move Demos Helsinki puts itself to a trajectory of becoming a truly Nordic think tank with high ambitions on growing internationally.
Why are we expanding our focus? Simply because there is a demand for fresh business thinking.
The fundamentals of business are changing rapidly. We think there is a niche emerging now for a hybrid of a think tank and a high quality business consultancy. Besides the demand, there is also a strong motivation deriving from the very mission of Demos Helsinki: we think that a healthy and forward looking society needs ambitious companies that are capable of providing solutions for the needs of society and build success out of that. Hence we want to be better accessible for businesses than we've been before.
Here is how Roope explains the mission of Demos Effect:
Wicked Opportunities from Demos Helsinki on Vimeo.
What Demos Effects offers in concrete terms? Demos Effect works with companies to turn foresight into new products, services, processes and business models. It maps companies' possibilities in creating smart growth, helps in creating future-proof business concepts and in understanding emerging business models, new entrants and startup working cultures. 
Who is taking the lead in Demos Effect? In Sweden we have found a great team of proven winners who have tremendous experience on both think tank and consultancy work. Niclas Ihrén, the CEO of Demos Effect Sweden, is an acknowledged expert and management consultant working with sustainability, radical innovation and strategic communication. He will be joined by Rebecca Krus, a strategic advisor in communications and sustainability, and Roope Mokka, who has already spent most of the past year in Sweden preparing the step we are now taking.
In Finland Tuuli Kaskinen is in charge of Demos Effect, supported by Satu Korhonen, the head of product development. At the moment we are at recruiting a business expert to help us in growing our client basis, to hone our products and to accelerate the growth of Demos Effect.
The Demos Effect team will spend the coming days in Almedalsveckan, an event in Visby, Gotland that gathers together all the top politicians and business leaders in Sweden (Kauppalehti-article on our activities in Almedalen). This is a 'soft-launch´, in which we collaborate with our partner the FuturePerfect festival, and it will be followed by new launches in both Finland and Sweden in which the unique value propositions of Demos Effect will be presented in more detail.