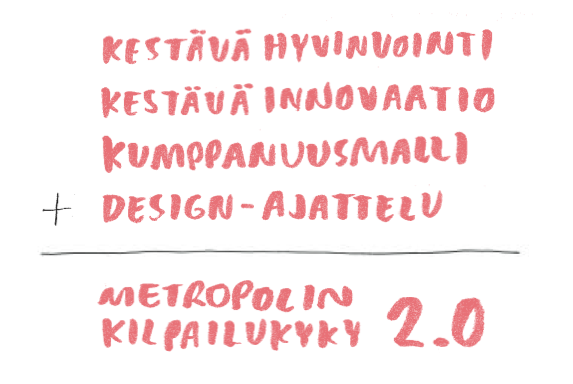 Well-being of the Metropolis is a research project was carried out in 2009-2010.
The project's aim was to find out what gives international competitive edge to the metropolis in the future, and how the city, together with its inhabitants, and its businesses is to build sustainable wellbeing. The research was conducted in cooperation with professor Antti Hautamäki and researcher Kaisa Oksanen from the University of Jyväskylä, and researcher Ville Viljanen from the University of Tampere. During the project we organised three workshops for politicians and civil servants from Espoo and the other municipalities within the metropolis area.
The result was a new outlook on the concept of partnership society, where the resources of citizens, municipalities and businesses are taken into use to build sustainable wellbeing. This kind of a partnership society breeds sustainable innovations directed at solving the most vexing problems in the society. As the demand for solutions for these vexing problems is global and, in practice, unlimited, the promotion of sustainable innovation is also the best policy to create competitive edge.
The report titled Metropolin hyvinvointi (Well-being of the Metropolis) was published in October 2010, and received broad publicity, including in the editorial of Finland's biggest broadsheet Helsingin Sanomat. The City of Espoo who ordered the report is on the path to realising several of the measures recommended by the report.