Update Tuesday, October 26: Applications for this position are currently closed while we review submissions. If you have just found out about this opportunity, please send an email to (leena.alanko@demoshelsinki.fi) to let us know your application is still to come. We will accept applications in this circumstance until October 28 (end of day), but please contact us as soon as possible to inform us.
Senior Expert: Emancipatory Economy
Environmental destruction, growing Wealth and social inequalities and a sense of injustice and hopelessness are revealing the urgency to Rethink the fundamental premises of our economy. That's why we are looking for a colleague to join our Emancipatory Economy team. We are committed to seeking and creating new narratives, practices and tools for our economy. The right candidate will possess a proven interest in societal transformation and experience in related contexts, and will thrive in a position of accountability.
Demos Helsinki is a globally operating, independent think tank. We work with curious governments, cities, companies, universities, and other partners sharing a mission to fight for a fair, sustainable, and joyful next era.
The Emancipatory Economy team is one of our four leverages for societal transformation in our Impact Model that works as our compass for our daily deliberations and decision-making. Some of the team's recent work includes a landscape analysis of actors and organizations working to create a Paradigm shift in economic thinking, and suggestions for the Finnish government on how to introduce a wellbeing economy steering model. Other examples of the themes we are currently exploring are mission-oriented innovation policy and investigating the role of the state in the economy. Find out more about how our work is challenging conventional thinking and forms here .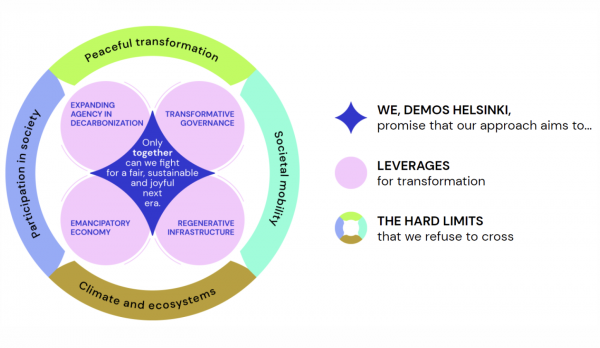 As a senior expert on the Emancipatory Economy team you would hold the following accountabilities, with the support of your colleagues:
Responsibility to strengthen Demos Helsinki's overall understanding and analysis of the societal effects of the economy.

Pursuit of societal transformation by cultivating the existing and new connections with different actors and organizations, particularly related to the role of the economy.

Turning big ideas into plans and actions: we are looking for individuals who are able to turn thematic ideation into concrete project proposals and are motivated to take part in the team's efforts to ensure financial stability.

Exhibiting an exploratory and reflective approach.

We understand that we cannot predetermine what an emancipatory economy looks like.

So, your approach should be open, curious and self-reflective.

You are able to lead or have a critical role in our mid-large-size projects and create connections between different projects.
Examples of activities that would be initially expected to be on the table:
Leading projects and/or working as an expert in projects where we are suggesting concrete ways of developing economic systems.

Building a community of practitioners and Forerunner thinkers and Empowering them to embark on a shared journey towards future economic paradigms.

Turning Analytical thinking into project ideas and together with the team, are able to fund them.

Crafting transformative narratives through which we change how the future of economy and societies are framed, discussed and acted upon.
What do we expect to happen in the first 12 months?
You have worked actively with the team for an analysis on the role of the economic system in societal transformation.

You have been successful in turning ideas into one or several concrete openings and project ideas.

You have successfully contributed to our sales activities by either being part of or leading a sales process.

You have been actively contributing to developing Demos Helsinki's networks and alliances in economic thinking.

You have successfully contributed to Demos Helsinki's projects as a team member or a project lead.
What is it like to work at Demos Helsinki?
You are Demos Helsinki.

At Demos Helsinki you get to be part of Defining our agenda on Transforming the economy and building openings and projects you truly believe in.

Our ethos of fighting for a fair, sustainable, and joyful next era is visible every day.

We approach societal change pluralistically, thus, discussions and argumentation to avoid simple truths is key for us.

Working with brilliantly curious and intriguing people also beyond Demos Helsinki.

Starting from our board and

UNTITLED

alliance, we work with people all over the world who won't let you down.

We take sticking to pre-agreed working hours seriously.
Some practicalities:
Start date during Fall 2022.

We are flexible as to where you are located.

Demos Helsinki has an office in Helsinki, but you can also live somewhere else.

Most of our current projects are on European timezones.

Salary 4000-4600€/month.

Excellent written and verbal communication skills in English are required.

Same skills in Finnish are considered an advantage.

Master's degree in a relevant study field, for example (but not limited to): economics, economic history, political economy, or public finance.
Demos Helsinki promotes equality in working life and our office and all workspaces are physically accessible. We are committed to building a diverse and inclusive community, a place where we can all be ourselves. This means, for example, flexible working arrangements and family-friendly employment policies. We treat others with dignity and respect, do not tolerate any form of discrimination or harassment and educate ourselves constantly.
We have an Anonymous application process in the first phase of the candidate selection. You can apply for these positions by filling out the application form, but the details that are irrelevant for the preliminary selection (eg, your name and city) are temporarily hidden when we go through the applications. The Anonymous application process ensures that the preliminary selection is influenced only by information that is relevant to the role.
The application process is now currently closed.
We will fill the position as soon as we find a suitable person. All applicants will be informed whether they are invited to an interview within 2 weeks after submitting their application. 
For further information, you can contact Leena Alanko (+358 50 537 3393). The best time to contact is on Wednesdays between 15.00 and 17.00 EET. 
---